From which manufacturer is it better to buy veneered interior doors wholesale
Interior doors have long ceased to be just an auxiliary element for distinguishing individual rooms in a room. Today, they are also a bright detail of the interior, which is able to visually increase the size of the room and emphasize its advantages. Veneered doors easily cope with all these tasks . You can buy them in any city in Russia. The domestic market of veneered door panels is represented by a large number of manufacturers. However, not all of them offer high-quality products at an affordable price, which is especially important when buying in bulk.

How to make doors from veneer
There are several ways to produce veneered fabrics:
cold method – a layer of glue is applied between the veneer and the door leaf and pressed;
hot method-the technology is similar to the cold method, but it uses a higher quality glue and a hot press, which affects the strength of the joint, of course, in a positive way;
membrane-vacuum method-allows you to apply veneer on surfaces with complex relief.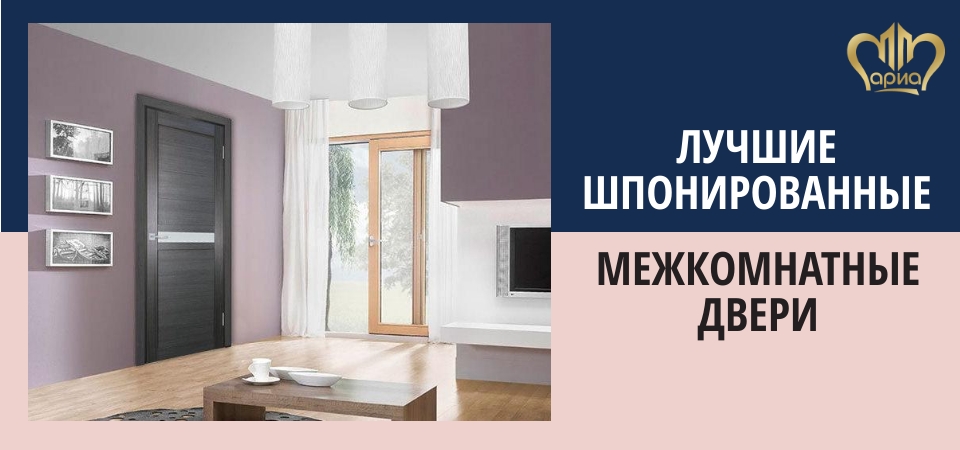 The cold method allows you to buy veneered doors as cheap as possible. Accordingly, the canvases made using the other two technologies will cost more. When buying doors in bulk, it is advisable to specify the production method. Some unscrupulous sellers may sell cheaper products under the guise of more expensive products, so it is recommended to contact only verified points of sale. These can be manufacturers ' stores or their authorized dealers.

Features of veneered doors
The main advantage of veneered door panels is the natural beauty of wood at an affordable price.
Other advantages include::
unique colors and textures;
resistance to excessive humidity and temperature changes;
maintainability;
environmental friendliness;
good performance of sound insulation and thermal insulation.
As for the disadvantages, here we can note the uniqueness. The fact is that the veneer corresponds to the texture of the wood, so it is almost impossible to choose two identical canvases. When buying veneered doors in bulk, you should be prepared that they may differ slightly in the "pattern".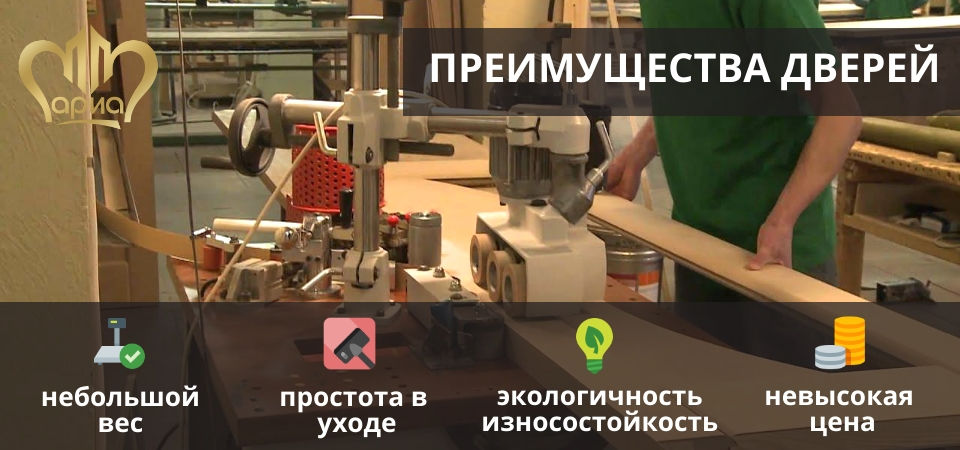 Proven Manufacturers of Veneer Doors
It is guaranteed to get high-quality products that do not contain harmful substances, only from manufacturers who care about their reputation. For quite a long time, such factories were considered exclusively foreign companies. However, the situation has been changing for 10-15 years and more and more buyers prefer domestic manufacturers. This is due, of course, to the increase in quality and a wide range that allows you to meet almost any requests.

The products of the factories "Bravo", "Veles" and "Rada"are very popular today. However, the doors of the latter belong more to the category of elite. The popularity of the Imola brand is growing, but it can hardly be fully called Russian, since the production facilities are located in Italy.
The factory of interior doors "MariaM" also cooperates with Italian colleagues, but only in terms of sharing experience and technologies. All production is concentrated in Moscow. A great emphasis in the manufacturer's product catalog is focused on the available models of door panels. For almost every veneered interior door, the price is kept at the lowest possible level. This is achieved at the expense of its own production base, large production volumes, as well as sales through its points of sale or through a dealer network.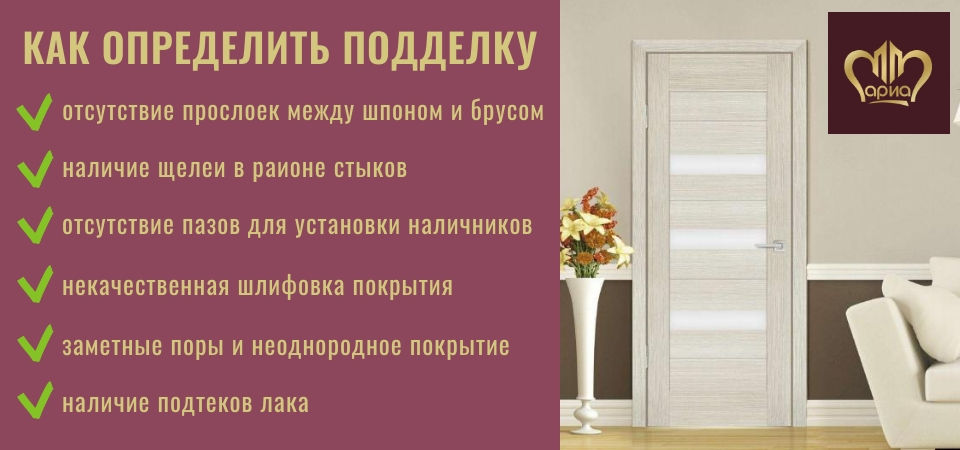 Every year, dozens of new models appear in the MariaM range that meet the needs of customers, as well as global trends in the field of design. Each door of the brand has a quality certificate, an official guarantee, as well as a brand quality mark that allows you to distinguish the original canvas from a fake.

How to choose a quality door
Veneered doors are not always synonymous with quality. There are quite a large number of low-grade fakes on the market.
Among the main parameters by which you can determine a fake:
no interlayers between veneer and timber;
the presence of cracks in the area of joints;
no slots for mounting platbands;
poor-quality sanding of the coating;
noticeable pores and non-uniform coating;
the presence of varnish smudges;
poor geometry of the web and mismatch of the profile with the door frame.
Low-quality doors have a service life of no more than 2 years, while high-quality doors can last 10-15, or even 20. A small saving on the purchase of products of dubious origin can result in even greater costs. That is why it is much more profitable to immediately give preference to proven brands.
Pub date: 2021.06.01